A Hundred People In A Banyan Tree?
On the road…again!
Afghanistan to Zambia


Chronicles of a Footloose Forester




By

Dick Pellek



 
I is for India
A hundred people in a banyan tree?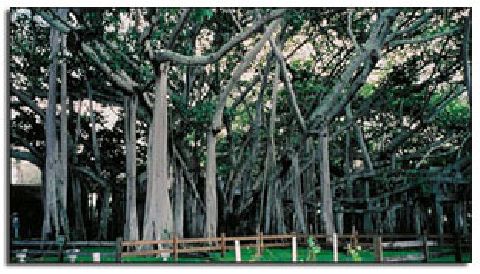 The banyan tree in India is many times larger than this one
While watching a sci-fi movie in which three young adventurers were filmed sitting in a tall evergreen to avoid some kind of monster, it reminded the Footloose Forester of another tree that could easily accommodate several people.
His conservative estimate is that the huge banyan tree (Ficus benghalensis) found in the botanical gardens in Kolkata, India could easily accommodate dozens and dozens of people.  A better guess is that its spreading branches (that cover over 4 acres of land) could easily hold more than a hundred people. Check it out for yourself, by zooming in with a real-time satellite photograph within the Google Earth archives at: Latitude N 22° 33' 67" and Longitude E 88° 17' 06.25" and look for the tree with the largest canopy, near a small pond.

 

The approximate outline (red line) of the giant banyan tree
As a Peace Corps Volunteer in Pakistan, going across the border into India was not much of a problem. In fact, it was the first trip that the Footloose Forester made when he earned his first annual leave.  On another trip, one of the sights Footloose Forester wanted to see--and did see--was that famously large banyan tree on the grounds of the Calcutta Botanical Garden.  At that time in the 1960s it reputedly covered over three acres in area.  These days, some 45 years later, written accounts give the area of coverage as four acres. In this modern age, however, look for the city of Kolkata, West Bengal for the botanical garden because the map name for Calcutta is now part of history.     
Related Posts
Comments
No comments made yet. Be the first to submit a comment