Even In Bad Weather, The Clams Are There
On the road…again!
Afghanistan to Zambia
Chronicles of a Footloose Forester


By Dick Pellek 
Even In Bad Weather, The Clams Are There
As time passes and we become more competent at harvesting clams from Chincoteague Bay, news of our successes has spread to other family members. That means more visits, especially in the summertime. This time around, we were visited by Thu's half-sisters Hue and Phuong, who now make their home in Philadelphia.
Looking back, Hue came to live with us in Saigon when she was just 17 years old; and would eventually "escape" from Viet Nam after 22 years of red tape and many setbacks in our quest to seek her release. That red tape included interceding for her, and going as high as the office of President Richard Nixon. Phuong also came to the United States as a parolee, to join her husband who was initially sponsored by a church group in Florida. After only a few months or so that turned out to be an unstable relationship, she left her abusive husband and joined her half-sister Hue in Philadelphia. The stories of three ladies, all with the same father but all with different mothers, is part of the overall story of our extended family, but is not the main theme in this present tale of clam hunting in Chincoteague Bay. Their stories, however, serve as reminders of the periods of their earlier travels, travails and hardships that infused courage into each of them as they matured. Such determination and willingness to face reality had more than a little part in each and every situation they faced as they grew into their new and challenging lives in The United States.
Back to the present and clamming in Chincoteague Bay….when it came to swimming, neither Hue nor Phuong was particularly active; indeed, neither of them claimed to be swimmers. But they packed their bathing suits when they came from Philadelphia for a short weekend visit. Thu had informed them that we had plenty of clams in this neck of the Chesapeake; and that we planned to go clamming in the shallows during their visit.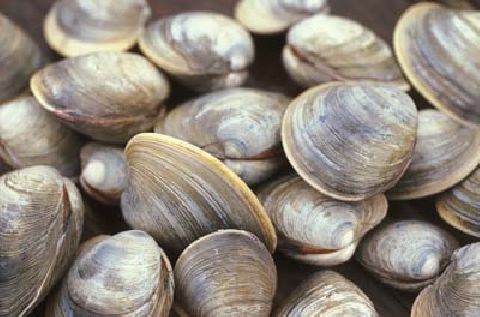 Typical Chesapeake chowder clams
Ideally, reaching for a buried clam at low tide and with calm seas is merely a matter or reaching down and grasping the clam at arm's length; and without getting your face or head wet. But when a stiff wind comes from the north or east, the choppy water-- even at low tide-- dictates that the only way to secure a buried clam is to dive under the surface and fight the gentle but persistent waves to claim your prize. Whereas during the previous clamming trip at low tide when we harvested nearly a hundred clams without getting our heads wet, this time it was much different.
All 77 clams we harvested that day were retrieved by diving under the surface and by fighting the 18 inch waves that repeatedly pushed us off target. Most times we had to mark the location of a clam by anchoring the Hawaiian Sling near where the clam was detected and ducking under the water upstream of the spot. Hue and Phuong were rookies at clamming but both were remarkably quick learners. They both far exceeded our expectations of probable success, given the conditions and their inexperience. It was doubly remarkable as a venture, however; because they were essentially non-swimmers whose first experience as clam hunters was on a day of choppy water, stiff breezes; and in a vast bay that was strange to them. That took plenty of courage and trust. Yet, rather than fear the many unknowns, they were too busy diving down and scooping up the famous chowder clams of our beloved Chincoteague Bay. And having more fun than they can ever recall!
Related Posts
Comments
No comments made yet. Be the first to submit a comment